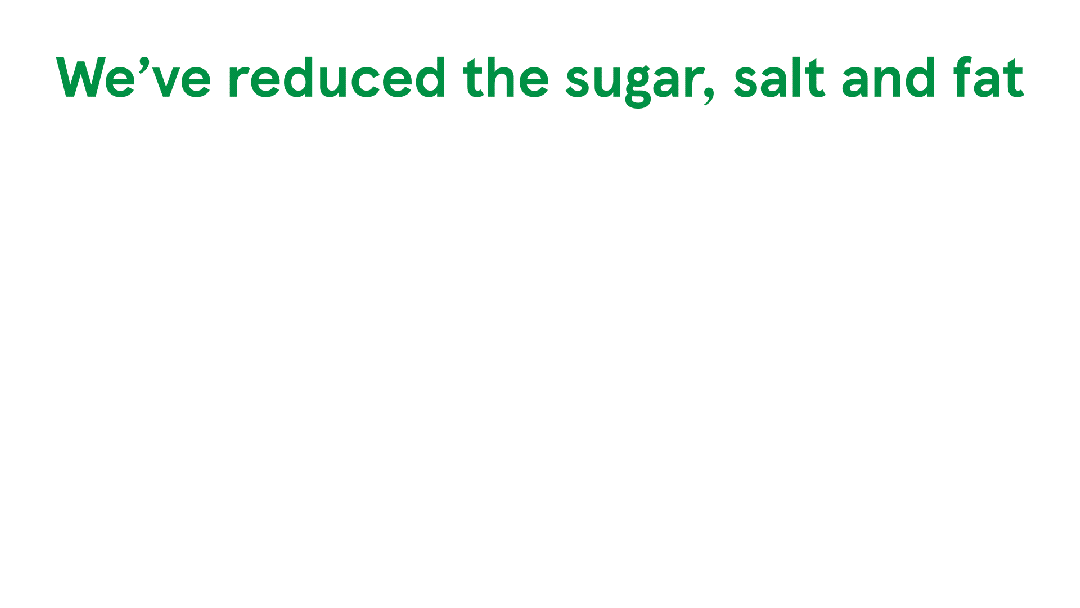 Since January 2015 we've removed over 8,000 tonnes of sugar, fat and salt from over 2,000 of our products including breakfast cereals and yogurts. We're also the first major supermarket to comply with the UK government's sugar levy across all of our own label soft drinks.
"Customers tell us they want to eat and be healthier and they're not always sure how to do it,  so our teams always try to make each product better when developing new recipes," says our Product Development Director Kate Ewart. Read more from Kate in her blog below…

Reformulation of our products helps customers to reduce their salt, sugar and fat intake. Many customers want to use cooking sauces as a quick way to make a meal, so we've reduced the fat and salt content in many of ours. We've also lowered the amount of salt in our soup range and reduced sugar from own label biscuits.
HEALTHIER LIVING
I've always felt that Tesco has a moral obligation to make our food the best we can – both good for you and full of flavour. That's why our team is continually looking at all own label products. But people's tastes change over time. As we reduce sugar and salt in our diets, we get used to different flavours.
BETTER TASTE
We're finding that reformulating products can often make them taste better, as some of the ingredients we're cutting down on can mask true flavour. Too much sugar in a yogurt can mask the flavour of the fruit in it, so by reducing the sugar, we're improving the taste. Likewise too much salt in a cooking sauce can mask the full flavour of the herbs.
WIDER CHOICE
Our customers want choice and balance in what they eat and we want to offer that. I love eating our own label food because I know it will always taste great and won't be overloaded with fat, salt and sugar. To learn more about how we're creating Little Helps to Healthier Living click here.